Curve Roller Bearings KR40
Model KR, KR…PP Curve Roller
In Model KR, KR…PP curve roller, the rolling body is guided by cage and the outer is axially guided by the
baffle ring on the bolt. It is suitable for heavy load and middle rotational speed. Since the bearing has
a large grease-storage space, it has a long-term lubrication cycle. Model KR…PP curve roller has the
contact-type seal structure.
Model KRV, KRV…PP Curve Roller
The structure of Model KRV, KRV…PP curve roller bearing is same with that of Model KR, KR…PP curve roller
bearing. Model KRV, KRV…PP curve roller bearing is the full complement needle roller bearing. This cure
roller bearing can with stand heavy load under the low speed. However it is necessary to add the
lubricating grease at regular intervals.
Model NUKR Cure Roller
Model NUKR cure roller bearing has the double-row roller structure. As same as parallel roller bearing, the
outer ring is guided axially by rolling body. The cover pressed in outer ring and the shoulder constitutes
the high-efficient gas seal.
This kind of cure roller bearing can withstand the heavy load and the shock axial load because it is guided
axially by roller.
KRE KRE…PP Model KREV KREV…PP NUKRE Curve Roller
Model KRE, KRE…PP, KREV, KREV…PP and NUKRE curve roller bearings are the special-purposed bearings in
order to meet the supporting requirement of main machine. The outer ring has roller structure and the bolt
shaft substitutes the inner ring. It has compact structure and can be equipped with eccentric-strap. The
roller can be adjusted by means of the slot at end of bolt. The lubricating grease can be fed from both
ends of bolt.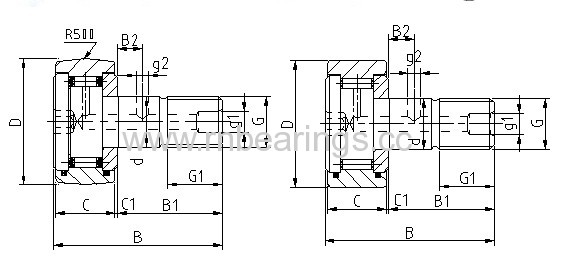 Shaft
Bearing No.
Boundary Dimension


Basic Load Rating
Without seal
With seal
Weight
D
d
C
B
B1
B2
G
G1
g1
g2
Nut
Dynamic
Static
with cage
with cage
tightening
mm
IKO
RNB
IKO
RNB
torque
Cr
Cor
g
mm
Kgf.m
kgf
4
CF 4 B


CF 4 BUU


7.4
12
4
8
20
11
--
M4X0.7
6
--
--
0.08
210
220
5
CF 5 B
KR 13
CF 5 BUU
KR 13 PP
10.3
13
5
9
23
13
--
M5X0.8
7.5
--
--
0.23
260
280
6
CF 6 B
KR 16
CF 6 BUU
KR 16 PP
18.5
16
6
11
28
16
--
M6X1
8
--
--
0.3
370
400
8
CF 8 B
KR 19
CF 8 BUU
KR 19 PP
28.5
19
8
11
32
20
--
M8X1.25
10
--
--
0.8
430
630
10
CF 10 B
KR 22
CF 10 BUU
KR 22 PP
45
22
10
12
36
23
--
M10X1.25
12
--
--
1.2
550
670
CF 10-1 B
KR 26
CF 10-1 BUU
KR 26 PP
60
26
10
12
36
23
--
M10X1.25
12
--
--
1.2
550
670
12
CF 12 B
KR 30
CF 12 BUU
KR 30 PP
95
30
12
14
40
25
6
M12X1.5
13
6
3
2.2
810
900
CF 12-1 B
KR 32
CF 12-1 BUU
KR 32 PP
105
32
12
14
40
25
6
M12X1.5
13
6
3
2.2
810
900
16
CF 16 B
KR 35
CF 16 BUU
KR 35 PP
169
35
16
18
52
32.5
8
M16X1.5
17
6
3
5.8
1230
1560
18
CF 18 B
KR 40
CF 18 BUU
KR 40 PP
250
40
18
20
58
36.5
8
M18X1.5
19
6
3
8.5
1500
2500
20
CF 20-1 B
KR 47
CF 20-1 BUU
KR 47 PP
386
47
20
24
66
40.5
9
M20X1.5
21
8
4
12
2110
3140
CF 20 B
KR 52
CF 20 BUU
KR 52 PP
461
52
20
29
66
40.5
9
M20X1.5
21
8
4
12
2110
3140
24
CF 24 B
KR 62
CF 24 BUU
KR 62 PP
815
62
24
29
80
49.5
11
M24X1.5
25
8
4
22
3110
3840
CF 24-1 B
KR 72
CF 24-1 BUU
KR 72 PP
1140
72
24
29
80
49.5
11
M24X1.5
25
8
4
22
3110
3840
30
CF 30 B
KR 80
CF 30 BUU
KR 80 PP
1870
80
30
35
100
63
15
M30X1.5
32
8
4
46
4630
6300
CF 30-1 B
KR 85
CF 30-1 BUU
KR 85 PP
2030
85
30
35
100
63
15
M30X1.5
32
8
4
46
4630
6300
CF 30-2 B
KR 90
CF 30-2 BUU
KR 90 PP
2220
90
30
35
100
63
15
M30X1.5
32
8
4
46
4630
6300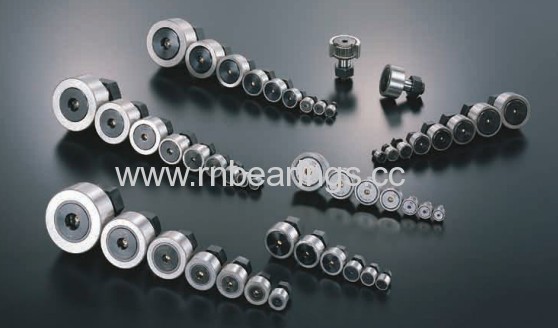 Curve Roller Bearings KR40