Needle Roller Thrust Bearings Assemblies NTA 5266
Demension: 82.55×104.78×3.175mm , Weight: 42g.

Thrust Needle Roller Bearing, Series AXK, AXW, AX TC, NTA
Thrust Parallel Roller Bearing, Series 811, 812, 893, 874, 894
The thrust needle roller bearing or thrust parallel roller bearing is such a manner that the needles
(rollers)with cage are set up in the space between rollway and collar and the cage reliably guides and
clamps a lot of rolling bodies. There is a little difference among the rolling bodies in the same set. The
thrust needle roller bearing or thrust parallel roller bearing is the one only supporting the axial load in
one direction. It is used as the bearing allocation having the good rigidity and axial small space.
Thrust Collar, Shaft Ring and Seat Ring
Thrust Collar, Series AS, LS, GS, WS, ZS, TRA, TRB, TRC TRD.
Series AS thrust collar is punched with the high quality steel spring plate in thickness of 1mm and
quenchedand polished. When the surface of the adjacent parts can not be acted as rollway, although it has a
good rigidity, Series AS collar shall play its full action.
Series GS, WS, LS thrust collars are made of bearing steel with the quenching process. The outer surface
of GS seat ring and the inner surface of WS shaft ring are ground. Series LS thrust collar is an economic
product with machining the outer and inter surfaces.
As for Series ZS thrust collar, when it is required for assembly to set up the bearing as bidirectional
location,the series ZS collar can be used as axial location or seat hole location.
Needle Roller Thrust Bearings Assemblies NTA 5266
RNB
Bearing Designation
Mass(g)
Boundary Dimentions
Washers Thickness
Basic Load Rating
Limiting Speed
Dynamic
Static
Shaft Diameter
Dc1
Dc
Dw
TRA
TRB
TRC
TRD
TRE
TRF
Cr(N)
Cor(N)
Greasc
6.35
NTA411
1
6.35
17.45
1.984
0.8
1.6
2.4






4114
9163
26000
7.92
NTA512
2
7.92
19.05
1.984
0.8
1.6
2.4






4670
11164
24000
9.52
NTA613
2
9.52
20.62
1.984
0.8
1.6
2.4






4848
12188
23000
12.7
NTA815
2
12.7
23.8
1.984
0.8
1.6
2.4






5738
16280
19000
14.27
NTA916
3
14.27
25.4
1.984
0.8
1.6
2.4






6183
18281
18000
15.88
NTA1018
3
15.88
28.58
1.984
0.8
1.6
2.4
3.2
4


7072
22551
16000
19.05
NTA1220
4
19.05
31.75
1.984
0.8
1.6
2.4
3.2
4


7873
27088
14000
22.22
NTA1423
5
22.22
36.5
1.984
0.8
1.6
2.4
3.2
4


10453
40966
12000
22.22
NTA1427
8
22.22
42.85
1.984
0.8
1.6
2.4
3.2
4


15257
68944
10000
25.4
NTA1625
6
25.4
39.67
1.984
0.8
1.6
2.4
3.2
4


10764
43902
11000
28.58
NTA1828
9
25.58
44.45
1.984
0.8
1.6
2.4
3.2
4


13522
60938
9800
31.75
NTA2031
10
31.75
49.21
1.984
0.8
1.6
2.4
3.2
4
4.8
16431
80954
8800
34.92
NTA2233
10
34.92
52.37
1.984
0.8
1.6
2.4
3.2
4
4.8
17392
89405
8200
38.1
NTA2435
11
38.1
55.5
1.984
0.8
1.6
2.4
3.2
4
4.8
18904
102304
7700
44.45
NTA2840
14
44.45
63.5
1.984
0.8
1.6
2.4
3.2
4
4.8
20639
119651.2
6900
50.8
NTA3244
15
50.8
69.85
1.984
0.8
1.6
2.4
3.2
4
4.8
19571
115203.2
6200
53.98
NTA3446
16
53.98
73.02
1.984
0.8
1.6
2.4
3.2
4


19883
119651.2
5900
57.15
NTA3648
17
57.15
76.2
1.984
0.8
1.6
2.4
3.2
4
4.8
20194
123654.4
5700
57.15
NTA3650
29
57.15
79.38
3.125












32915
168134.4
5300
63.5
NTA4052
19
63.5
82.55
1.984
0.8
1.6
2.4
3.2
4


20772
132105.6
5200
69.85
NTA4458
37
69.85
92.08
3.175
0.8
1.6
2.4
3.2
4
4.8
41722
242416
4600
76.2
NTA4860
22
76.2
95.25
1.984
0.8
1.6
2.4
3.2




21973
149452.8
4500
82.55
NTA5266
42
82.55
104.78
3.175
0.8
1.6
2.4
3.2




44925
279779.2
4000
95.25
NTA6074
50
95.25
117.48
3.175
0.8
1.6
2.4
3.2




48928
326483.2
3500
104.78
NTA6681
62
104.78
128.59
3.175
0.8
1.6
2.4
3.2


4.8
55600
395427.2
3200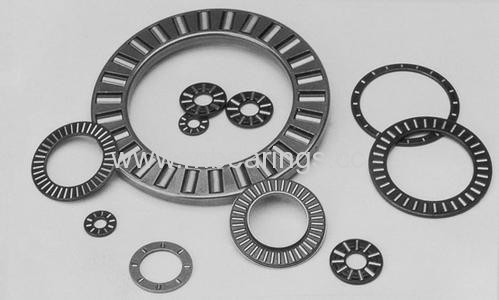 Needle Roller Thrust Bearings Assemblies NTA 5266