Insert Bearing SB 212
SB 212 ball Bearing Insert Cylindrical bore (with set screws) 60mm Inner Diameter Bearing

SB 212 Mounted Axle Bearing 60mm Bore. The inner diameter is 60mm, the outer diameter is 110mm
and the width is 53.7mm.

SB 200 Series:
1 This code dimensions with the national standard "GB/T3882" consistent.
2 applies to a shaft shoulder and mounting position restricted parts of the United States,
Britain, France, Germany and other countries more use of this structure.
3 multi-punch with steel bearing used in conjunction.
Pillow block bearings is combination of a radial ball bearing,seal,and a housing of high-grade cast iron or pressed steel,which comes in various shapes.
The outer surface of the bearing and the internal surface of the housing are spherical, so
that the unit is self-aligning. The inside construction of the ball bearing for the unit is
such that steel balls and retainers of the same type as in series 62 and 63 of the deep
groove ball bearing are used. A duplex seal consisting of a combination of an oil-proof
synthetic rubber seal and a slinger is provided on both sides.
Depending on the type, the following methods of fitting to the shaft are employed:
(1) the inner ring is fastened onto the shaft in two places by set screws.
(2) the inner ring has a tapered bore and is fitted to the shaft by means of an adapter.
(3) In the eccentric locking collar system the inner ring is fastened to the shaft by means of eccentric
grooves provided at the side of the inner ring and on the collar.

Pillow block bearing of Applications:
Marine, automobile, agriculture machine, farm machinery, conveyors, construction machinery, etc.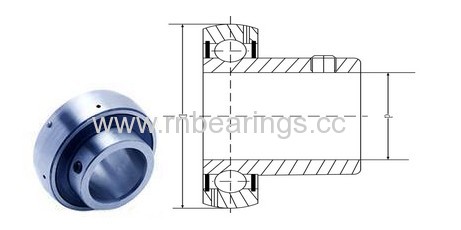 RNB
Shaft Dia.
Dimensions (mm)
Basic load ratings(N)
Mass(kg)
d
D
B
C
S
h
G
ds
Dynmic Cr
Static Cor
Bearing No.
(mm)
SB201
12
40
22
12
6
3.6
4
M5X0.8
9550
4780
0.1
SB201-8


40
22
12
6
3.6
4
10#-32UNF
9550
4780
0.1
SB202
15
40
22
12
6
3.6
4
M5X0.8
9550
4780
0.1
SB202-10


40
22
12
6
3.6
4
10#-32UNF
9550
4780
0.1
SB203
17
40
22
12
6
3.6
4
M5X0.8
9550
4780
0.1
SB203-11


40
22
12
6
3.6
4
10#-32UNF
9550
4780
0.1
SB204-12


47
25
14
7
4
5
1/4-28UNF
12800
6650
0.14
SB204
20
47
25
14
7
4
5
M6X1
12800
6650
0.14
SB205-14


52
27
15
7.5
4.3
5.5
1/4-28UNF
14000
7880
0.17
SB205-15


52
27
15
7.5
4.3
5.5
1/4-28UNF
14000
7800
0.17
SB205
25
52
27
15
7.5
4.3
5.5
M6X1
14000
7880
0.17
SB205-16


52
27
15
7.5
4.3
5.5
1/4-28UNF
14000
7880
0.17
SB206-18


62
30
16
8
5
6
1/4-28UNF
19500
11200
0.26
SB206
30
62
30
16
8
5
6
M6X1
19500
11200
0.26
SB206-19


62
30
16
8
5
6
1/4-28UNF
19500
11200
0.26
SB206-20


62
30
16
8
5
6
1/4-28UNF
19500
11200
0.26
SB207-20


72
32
17
8.5
5.7
6.5
1/4-28UNF
25700
15200
0.39
SB207-21


72
32
17
8.5
5.7
6.5
1/4-28UNF
25700
15200
0.39
SB207-22


72
32
17
8.5
5.7
6.5
1/4-28UNF
25700
15200
0.39
SB207
35
72
32
17
8.5
5.7
6.5
M6X1
25700
15200
0.39
SB207-23


72
32
17
8.5
5.7
6.5
1/4-28UNF
25700
15200
0.39
SB208-24


80
34
18
9
6.2
7
5/16-24UNF
29600
18200
0.54
SB208-25


80
34
18
9
6.2
7
5/16-24UNF
29600
18200
0.54
SB208
40
80
34
18
9
6.2
7
M8X1
29600
18200
0.54
SB209-26


85
41.2
19
10.2
6.5
8.2
5/16-24UNF
31850
20800
0.68
SB209-27


85
41.2
19
10.2
6.5
8.2
5/16-24UNF
31850
20800
0.68
SB209-28


85
41.2
19
10.2
6.5
8.2
5/16-24UNF
31850
20800
0.68
SB209
45
85
41.2
19
10.2
6.5
8.2
M8X1
31850
20800
0.68
SB210-30


90
43.5
20
10.9
6.5
9.2
5/16-24UNF
35100
23200
0.8
SB210-31


90
43.5
20
10.9
6.5
9.2
5/16-24UNF
35100
23200
0.8
SB210
50
90
43.5
20
10.9
6.5
9.2
M8X1
35100
23200
0.8
SB211-32


100
45.3
23
11.8
7.2
9.8
5/16-24UNF
43550
29200
1
SB211-34


100
45.3
23
11.8
7.2
9.8
5/16-24UNF
43550
29200
1
SB211
55
100
45.3
23
11.8
7.2
9.8
M8X1
43550
29200
1
SB211-35


100
45.3
23
11.8
7.2
9.8
5/16-24UNF
43550
29200
1
SB212-36


110
53.7
24
14.9
8
9.8
3/8-24UNF
47800
32800
1.3
SB212
60
110
53.7
24
14.9
8
9.8
M10X1.25
47800
32800
1.3
SB212-39


110
53.7
24
14.9
8
9.8
3/8-24UNF
47800
32800
1.3
Insert Bearing SB 212